2023.07.12
クラゲだって、オケラだって、アメンボだって/Even jellyfish, ocellated fish, and water stridersクラゲだって、オケラだって、アメンボだって/
天候/気温


Weather/Ground Temperature

快晴 (clear)/30℃
風向き


Wind Direction

南西の風 (southwest wind)
水温


Water Temperature

19℃
波の高さ


Wave

2m
透明度


Visibility (Top to bottom)

3m
透視度


Visibility (Right to left)

3m
ダイビングポイント


Diving point

カメ根 白根
みんなみんな
生きているんだ
友達なんだ
素晴らしい歌詞ですよね!
どんな生き物にも等しく価値があるんです
例え水温が下がって透明度がすこーし悪くなってしまっても
ハンマーヘッドシャークを見ることができなくても!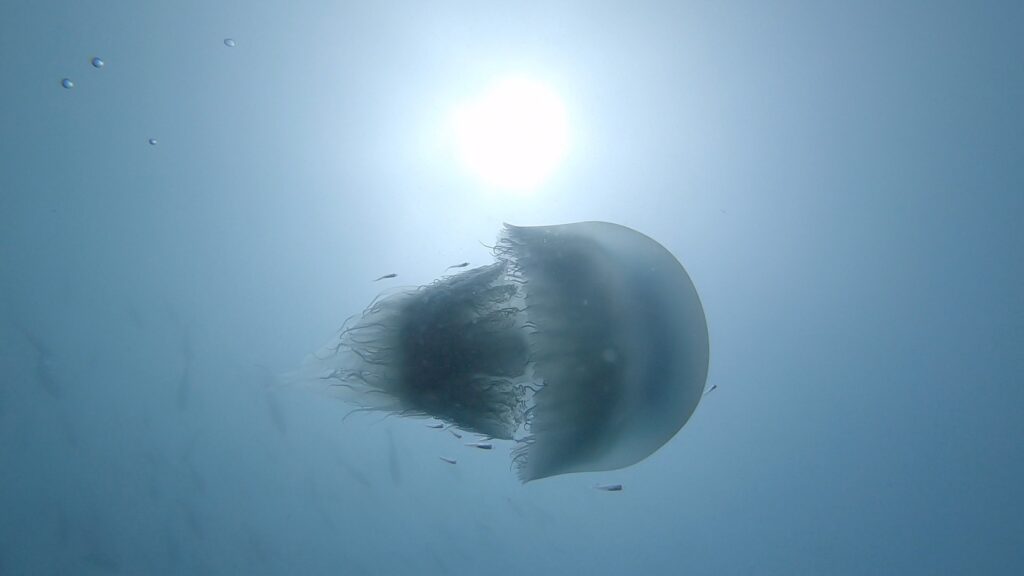 クラゲだって,だって魅力的な友達なんです!
参加してくれた皆様!有難うございました!
明日も朝判断、出航出来ている事を喜んで布団に入りましょう!
では!
All of us.
We're alive.
We're friends.
It's a wonderful lyric!
Every living thing has equal value.
Even if the water temperature drops and the visibility is a little low.
Even if you can't see a hammerhead shark!
Eels are also fascinating friends!
To everyone who participated, thank you! Thank you very much for your participation!
Let's go to bed tomorrow morning and be happy that we are sailing again!
See you soon!
◎…残り40名以上(over40pax remaining)/〇…残り30名~40名(30-40 pax remaining)/△…残り30名~10名(10-30 pax remaining)/お問い合わせください…残り10名以下(less than 10 pa
Share this dive log :