2023.08.08
8月11日までクローズのお知らせ/Notice of closing until August 11/.
天候/気温


Weather/Ground Temperature

快晴 (clear)/℃
風向き


Wind Direction

北の風 (north wind)
水温


Water Temperature

℃
波の高さ


Wave

m
透明度


Visibility (Top to bottom)

m
透視度


Visibility (Right to left)

m
ダイビングポイント


Diving point
おはようございます!
現在近づいております台風6号の影響により
明日8月9日までクローズとお伝えしておりましたが、
8月11日(金)までクローズが決定致しましたので、お伝えさせて頂きます。
ご予約頂いていたゲストの皆様には、
ご迷惑をおかけし大変申し訳御座いませんでした。
順番に当店からご連絡させて頂きますので、こちらのログをご覧頂いた方は、
お電話またはメール頂けますと幸いです。
また現時点の予報では、12日以降も新たな台風が出来る予想も出ております。
12日以降の営業に関してもまたこちらのログやSNS上でも公開していきますので
合わせてご確認ください。
何卒よろしくお願い申し上げます。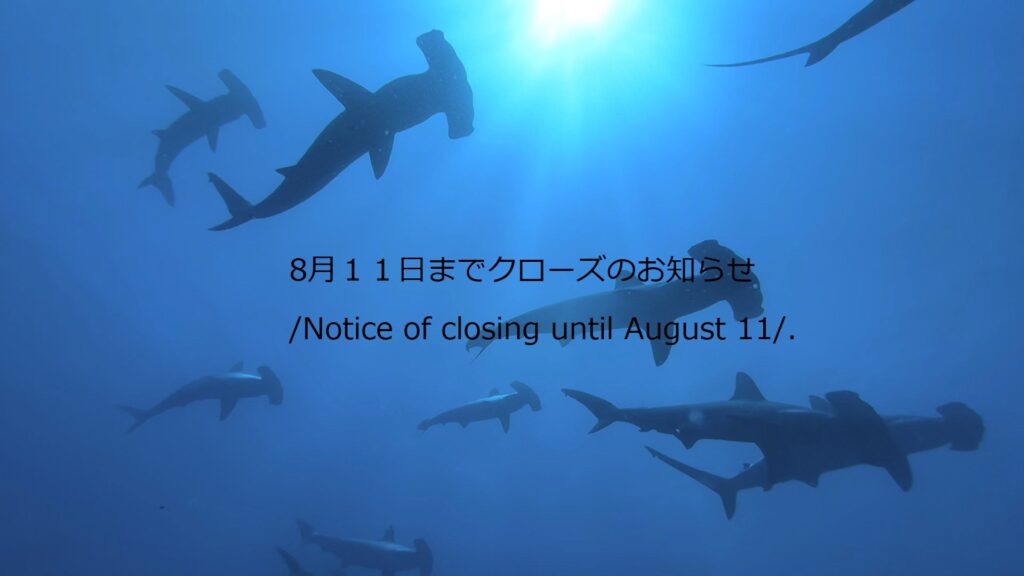 Good morning!
Due to the typhoon No. 6 that is currently approaching.
We had previously announced that we would be closed until tomorrow, August 9,
We are sorry to inform you that we will be closed until Friday, August 11.
We apologize for the inconvenience to our guests who had made reservations,
If you have read this log, please call or email us.
Also, the current forecast is predicting that a new typhoon will form after the 12th.
We will also be posting information about our operations after the 12th on this log and on our social networking sites.
Please check our logs and SNS as well.
Thank you very much for your understanding.
Share this dive log :