2023.04.11
今年もBLUE OCEAN FES KANSAI2023に出展します/We will be at BLUE OCEAN FES KANSAI2023 again this year!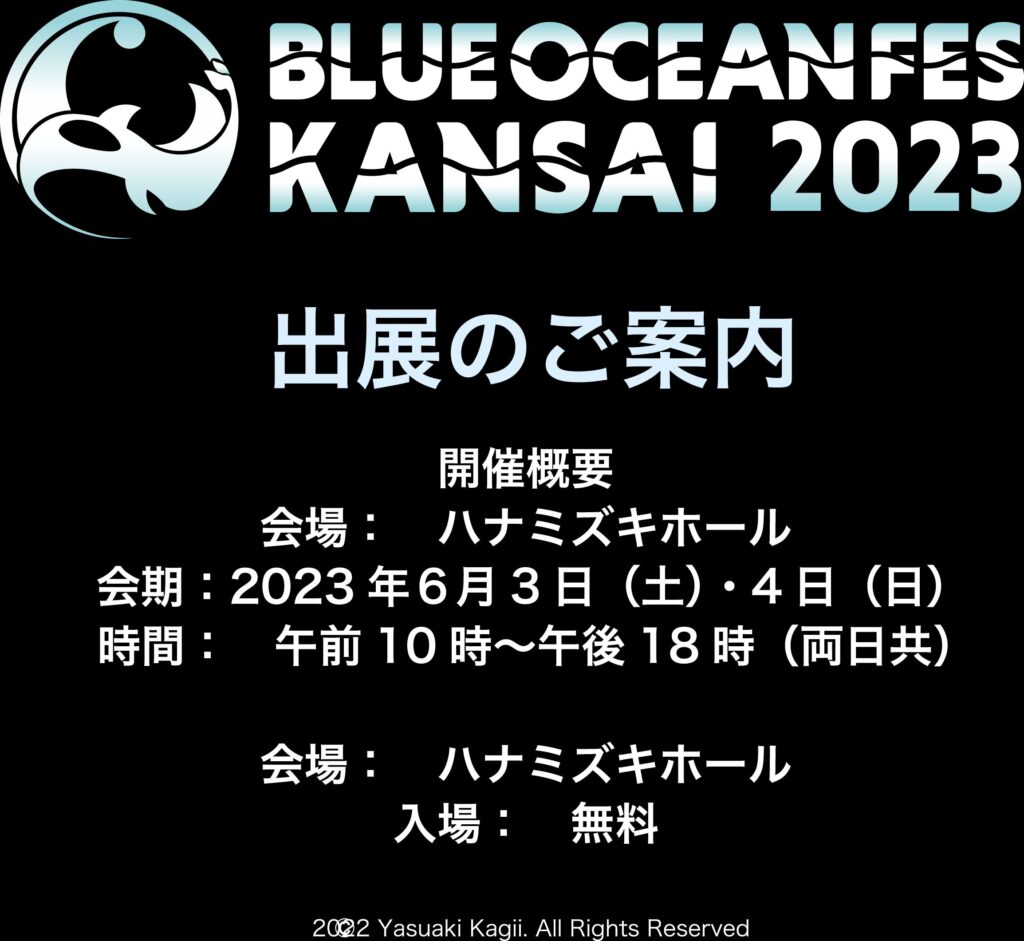 English below;
2023年6月3日(土)、4日(日)に
大阪 花博記念公園 鶴見緑地 ハナミズキホールにて開催される
BLUE OCEAN FES KANSAI2023に
今年も神子元ハンマーズが出展します!
関西ダイバーの皆様、ぜひぜひ会いに来て下さい!!
フェス会場ではご新規様限定の割引クーポンつきパンフレットを配布!
SNSフォローで新デザインステッカーがもらえるなど、特典も盛りだくさん!
池袋マリンダイビングフェアにて大好評でした
前売りダイビングチケットも発売します!
【前売り券】
神子元2ダイブ通常価格19,800円(税込)のところ、
ブルーオーシャンフェス特別価格15,000円(税込)
※フェス会場にてお一人様2枚限り、ご本人のみの限定販売です。
※現金でのお支払いのみとなります。クレジットカードやPaypayでのお支払いはできません。
※ご購入においての注意事項はこちらをご確認ください。
そして、フェアに合わせて呑み会も開催します!!
場所は難波!3日土曜日の夜、時間は19時!
大阪の夜に海の話しを語らいましょう!!
呑み会のご予約は、0558-62-4105まで!
お待ちしております!!

皆様のご来場お待ちしております!
BLUE OCEAN FES KANSAI2023 公式サイト
https://divingfes.jp/
Saturday, June 3 and Sunday, June 4, 2023
at Tsurumi Ryokuchi Hanamizuki Hall in Hanahaku Kinen Park, Osaka
BLUE OCEAN FES KANSAI2023 will be held at Hanamizuki-ryokuchi Hanamizuki-Hall in Hanahaku Memorial Park, Osaka
Mikomoto Hammers will be exhibiting again this year!
Please come and meet us!
We will distribute pamphlets with discount coupons exclusively for new customers at the festival site!
You can also get a newly designed sticker by following us on SNS!
We had a great response at the Ikebukuro Marine Diving Fair!
Advance diving tickets will also be on sale!
Advance Tickets
Mikomoto 2-dive regular price is 19,800 yen (tax included),
Blue Ocean Festival Special Price 15,000 yen (tax included)
Only 2 tickets per person will be sold at the festival venue.
Only cash payment will be accepted. Credit card and PayPay payments are not accepted.
Please click here for more details.
BLUE OCEAN FES KANSAI2023 Official website
https://divingfes.jp
Share this news :