---
Accommodation
Our Shop & Guesthouse
At Mikomoto Hammers, we provide all guests with free Wi-Fi, free coffee, hot water and a spin dryer.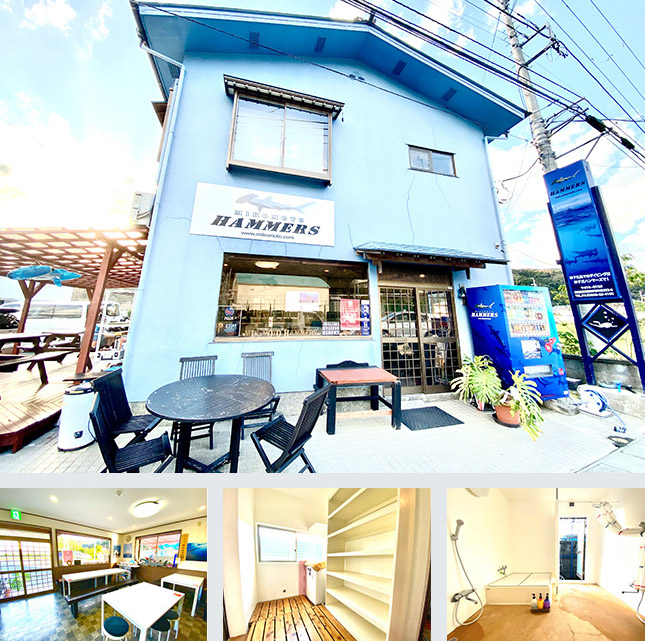 Accommodation Fee
MikomotoHammers guesthouse (for divers only, shared rooms with same sex)
Fee
One night without meals
¥2,750/day

(¥2,500 without tax)

One night with breakfast
¥3,410/day

(¥3,100 without tax)

One night with breakfast and supper
¥4,070/day

(¥3,700 without tax)
There is a courtesy bus for customers arriving by train at the Izukyu Shimoda Station.

If you wish to have breakfast, lunch, and/or dinner; each meal costs ¥600 without tax.
Our guesthouse is for divers only. If your friend or family member is not diving with us, we can recommend a guesthouse near our shop. They cannot stay at Mikomoto Hammer`s Guesthouse.
We sometimes arrange your accommodation at another guesthouse nearby our shop, at the same price as our guesthouse.
The guesthouse room is shared with other guests. If you wish a private room, we can recommend another hotel near the Izukyu Shimoda station.
Guesthouse Raizuya (Japanese style room, 5 mins from our shop by car)

Fee
Single room
¥6,050/a night*a room

(¥5,500 without tax)

2 people per a room
¥11,000/a night*a room

(¥10,000 without tax)

3 people per a room
¥13,200/a night*a room

(¥12,000 without tax)
※Included; Pick up service from Izukyu shimoda station and from our shop, free WiFi, Onsen
 Not included; meals, tax (10%)
Shimoda Tokyu hotel (4 star hotel, 15 mins from our shop by car)

Superior room
(24m*m for 2 people,
35m*m for 3 or 4people)
Fee
Single room
from ¥16,500/a night*a room

(¥15,000 without tax)

2 people per a room
from ¥19,800/a night*a room

(¥18,000 without tax)

3 people per a room
from ¥28,050/a night*a room

(¥25,500 without tax)

4people per a room
from ¥33,000/a night*a room

(¥30,000 without tax)
※The costs change depends on your date.
※Included; Pick up service to our shop, free Wi-fi, Onsen and so on
 Not included; meals, tax (10%)