May 25, 2023
これぞ神子元???This is the mikomoto?
Weather/Ground Temperature
曇りのち晴れ (cludy followed by sunny)/21℃
Wind Direction
東の風 (east wind)
Water Temperature
20℃
Wave
1.5m
Visibility (Top to bottom)
5m
Visibility (Right to left)
5m
Diving point
ザブ根、カメ根 ZABU-NE KAME-NE
噂に名高い
神子元名物を見せていただきました!
透明度急転直下の5メーター!
これかぁwww
さらにさらに
この透明度、冷たい潮にも関わらず40群れ登場!
しかし全員に知らせ終えるまでには最後尾がギリギリ見える程度…
これもまたらしさデスねえ
それでもなんとか安全停止中も1頭向こうから大接近等
見せ場はなんとか確保です
3本目にはところによりこんな青も見れて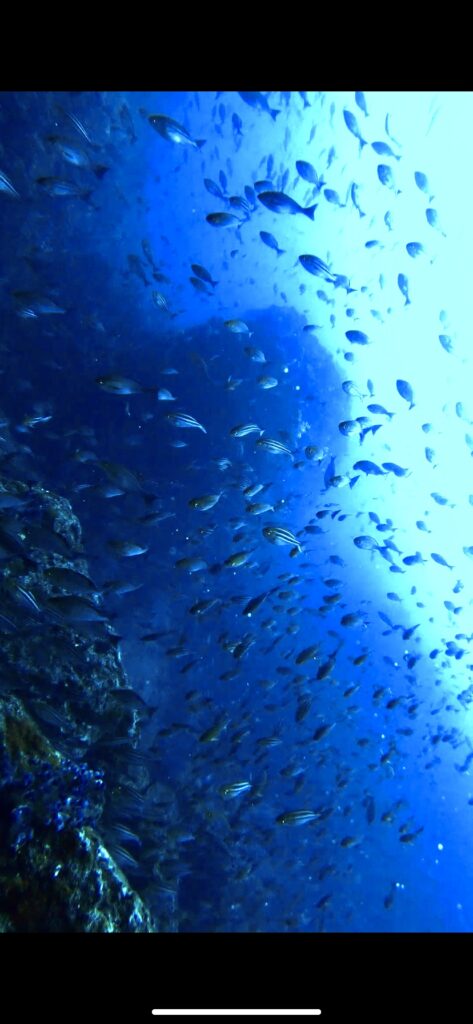 この流れで明日はいよいよ透明度大復活なんてのもまた神子元らしさなんでしょう
期待して床に就きます。ではまた!
Famous for its rumors
We were shown a mikomoto specialty!
The transparency is a steep 5 meters!
Awww!
And more!
In spite of this clarity and the cold tide, 40 schools appeared!
But by the time we finished informing everyone, we could just barely see the tail end of the school…
That's just the way it is, isn't it?
Even so, one of them managed to get very close to us during the safety stop.
We managed to get a good show!
It will be just like mikomoto to see a big comeback in visibility tomorrow!
I will go to bed with high expectations. See you later!
◎…残り40名以上(over40pax remaining)/〇…残り30名~40名(30-40 pax remaining)/△…残り30名~10名(10-30 pax remaining)/お問い合わせください…残り10名以下(less than
Share this dive log :